News
myers marketing co ltd has joined CommUnity as a CommUnity Merchant.
CommUnity
is New Zealand's newest nationwide community funding platform that will generate funds for your community group/s, each and every time you purchase from myers marketing co ltd, it will save your selected group/s valuable hours having to apply for funds and allow them to focus on the core task of running their organisation.
As a CommUnity Merchant every time we transact with a CommUnity Member, this transaction will generate a 5% return from the value of your purchase to your selected CommUnity Groups (the recipient group).

Example: Spend $1,000.00 and $50.00 of your spend will go to your selected community group/s. Note: You can select up to 3 recipient groups at any one time.

Your group or groups will receive 60% of the $50.00 transaction (payments made to them quarterly), with the 40% balance being split as follows: 35% of $50.00 will go into a national fund "The CommUnity Fund" which recipients can apply to for One-Off projects and/or events (for up to 100% of the cost) and 5% of the $50.00 being used for CommUnity operational costs.
For the above to happen, myers marketing co ltd customers will be required to register as a CommUnity Member (the shopper), please use the following link that takes you directly to the CommUnity Members registration page: CommUnity Members.
If you would like to learn more about CommUnity please click on any of the following links or contact their local regional manager David Kenny on 021 782 315 or davidk@comm-unity.kiwi
CLICK THIS ICON LINK


CLICK ON SOCIAL MEDIA LINKS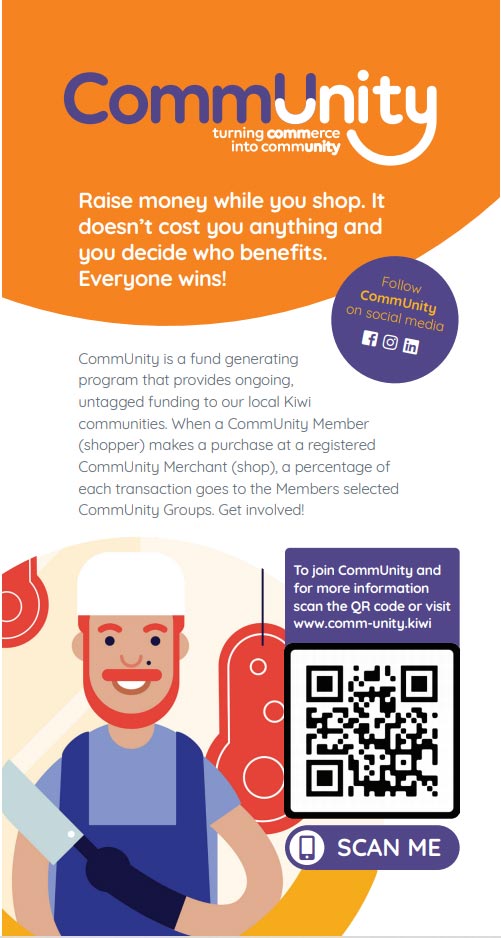 Thank You for being a myers marketing co ltd customer or prospective customer, together we will support and strengthen our community and allow our favourite groups, clubs, schools etc to get on doing what they do best.
Thanking you in anticipation of your support.
David Myers
Managing Director
0273710101